NHS
HOW TO TAKE SHILAJIT ? | SHILAJIT EMPTY STOMACH
You might have heard of many benefits of the Shilajit resin and what makes it so popular. Perhaps you want to try it for yourself and perhaps you want to know if it is good on an empty stomach or not. Well if not, then to kick things off, it is important to know some of the facts about Himalayan Shilajit. The wonders of substance Shilajit is mentioned in ancient Ayurveda holy texts over 4000 years ago.
As we know, the human body needs certain minerals and trace elements to be able to function optimally and to be healthy at all times. The organic mineral supplement, the purified Himalayan shilajit has been proven to contain over 85 minerals and trace elements which the human body absorbs at a cellular level. Shilajit ingestion maintains health and increase overall athletic performance without any side-effects whatsoever. For further information, we have more articles on the composition and benefits of Himalayan Shilajit which you can access here.
Let us now learn the instructions on how to use it and if it is healthy on an empty stomach or not. Using shilajit is easy-peasy, but before that we want to clarify one thing that the product quality is really important and many of our customers has endorsed and reviewed our product. To use Himalayan shilajit all you need is to follow these three steps.
1.Take a rice to pea sized portion of Shilajit tar (300-500 Mg)
2.Dissolve it in hot water, warm milk or tea (it takes around 10-15 minutes)
3.Drink it on an empty stomach every morning and before other meals as well if you feel the need.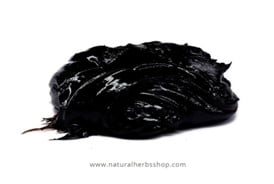 It easily dissolves in warm water or other liquid like green tea but remember that it should never be mixed with chlorinated water and do not boil it.Take one portion a day, and after a week or two, increase your dosage by taking the same portion up to two times a day. You can mix the supplement with hot milk or raw honey.
The best time to take Shilajit is on an empty stomach that is after you wake up before breakfast. In this way, you will achieve maximum absorption of Shilajit in your body.The use of Shilajit for the first timers should be gradual in dosage. If you are a day worker, it would be best for you to take the supplement in the daytime rather than in the nighttime. Remember that Shilajit does not only help to keep your mind alert but also boosts your energy.Along with this supplement you should also include eating a healthy diet and doing some work out. After taking the shilajit daily for at least a month the improvements in your overall health is an indication that your body is benefiting from the treatment and that you are taking the dosage which is suitable for you.